QUESTION 1
Which layer in the OSI reference model is responsible for determining the availability of the receiving program and checking to see if enough resources exist for that communication?
A. transport
B. network
C. presentation
D. session
E. application
Answer: E
Explanation:
This question is to examine the OSI reference model. The Application layer is responsible for identifying and establishing the availability of the intended communication partner and determining whether sufficient resources for the intended communication exist.
QUESTION 2
Which of the following describes the roles of devices in a WAN? (Choose three.)
A. A CSU/DSU terminates a digital local loop.
B. A modem terminates a digital local loop.
C. A CSU/DSU terminates an analog local loop.
D. A modem terminates an analog local loop.
E. A router is commonly considered a DTE device.
F. A router is commonly considered a DCE device.
Answer: ADE
Explanation:
The idea behind a WAN is to be able to connect two DTE networks together through a DCE network. The network's DCE device (includes CSU/DSU) provides clocking to the DTE-connected interface (the router's serial interface).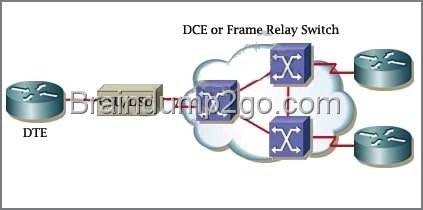 A modem modulates outgoing digital signals from a computer or other digital device to analog signals for a conventional copper twisted pair telephone line and demodulates the incoming analog signal and converts it to a digital signal for the digital device. A CSU/DSU is used between two digital lines –
For more explanation of answer D, in telephony the local loop (also referred to as a subscriber line) is the physical link or circuit that connects from the demarcation point of the customer premises to the edge of the carrier or telecommunications service provider's network. Therefore a modem terminates an analog local loop is correct.


QUESTION 3
A network administrator is verifying the configuration of a newly installed host by establishing an FTP connection to a remote server. What is the highest layer of the protocol stack that the network administrator is using for this operation?
A. application
B. presentation
C. session
D. transport
E. internet
F. data link
Answer: A
Explanation:
FTP belongs to Application layer and it is also the highest layer of the OSI model.
QUESTION 4
A network interface port has collision detection and carrier sensing enabled on a shared twisted pair network. From this statement, what is known about the network interface port?
A. This is a 10 Mb/s switch port.
B. This is a 100 Mb/s switch port.
C. This is an Ethernet port operating at half duplex.
D. This is an Ethernet port operating at full duplex.
E. This is a port on a network interface card in a PC.
Answer: C
Explanation:
Modern Ethernet networks built with switches and full-duplex connections no longer utilize CSMA/CD. CSMA/CD is only used in obsolete shared media Ethernet (which uses repeater or hub).
QUESTION 5
A receiving host computes the checksum on a frame and determines that the frame is damaged. The frame is then discarded. At which OSI layer did this happen?
A. session
B. transport
C. network
D. data link
E. physical
Answer: D
Explanation:
The Data Link layer provides the physical transmission of the data and handles error notification, network topology, and flow control. The Data Link layer formats the message into pieces, each called a data frame, and adds a customized header containing the hardware destination and source address. Protocols Data Unit (PDU) on Datalink layer is called frame. According to this question the frame is damaged and discarded which will happen at the Data Link layer.
QUESTION 6
Which of the following correctly describe steps in the OSI data encapsulation process? (Choose two.)
A. The transport layer divides a data stream into segments and may add reliability and flow control information.
B. The data link layer adds physical source and destination addresses and an FCS to the segment.
C. Packets are created when the network layer encapsulates a frame with source and destination host
addresses and protocol-related control information.
D. Packets are created when the network layer adds Layer 3 addresses and control information to a segment.
E. The presentation layer translates bits into voltages for transmission across the physical link.
Answer: AD
Explanation:
The Application Layer (Layer 7) refers to communications services to applications and is the interface between the network and the application. Examples include. Telnet, HTTP, FTP, Internet browsers, NFS, SMTP gateways, SNMP, X.400 mail, and FTAM.
The Presentation Layer (Layer 6) defining data formats, such as ASCII text, EBCDIC text, binary, BCD, and JPEG. Encryption also is defined as a presentation layer service. Examples include. JPEG, ASCII, EBCDIC, TIFF, GIF, PICT, encryption, MPEG, and MIDI.
The Session Layer (Layer 5) defines how to start, control, and end communication sessions. This includes the control and management of multiple bidirectional messages so that the application can be notified if only some of a series of messages are completed. This allows the presentation layer to have a seamless view of an incoming stream of data. The presentation layer can be presented with data if all flows occur in some cases. Examples include. RPC, SQL, NFS, NetBios names, AppleTalk ASP, and DECnet SCP
The Transport Layer (Layer 4) defines several functions, including the choice of protocols. The most important Layer 4 functions are error recovery and flow control. The transport layer may provide for retransmission, i.e., error recovery, and may use flow control to prevent unnecessary congestion by attempting to send data at a rate that the network can accommodate, or it might not, depending on the choice of protocols. Multiplexing of incoming data for different flows to applications on the same host is also performed. Reordering of the incoming data stream when packets arrive out of order is included. Examples include. TCP, UDP, and SPX.
The Network Layer (Layer 3) defines end-to-end delivery of packets and defines logical addressing to accomplish this. It also defines how routing works and how routes are learned; and how to fragment a packet into smaller packets to accommodate media with smaller maximum transmission unit sizes. Examples include. IP, IPX, AppleTalk DDP, and ICMP. Both IP and IPX define logical addressing, routing, the learning of routing information, and end-to-end delivery rules. The IP and IPX protocols most closely match the OSI network layer (Layer 3) and are called Layer 3 protocols because their functions most closely match OSI's Layer 3.
The Data Link Layer (Layer 2) is concerned with getting data across one particular link or medium.
The data link protocols define delivery across an individual link. These protocols are necessarily concerned with the type of media in use. Examples includE. IEEE 802.3/802.2, HDLC, Frame Relay, PPP, FDDI, ATM, and IEEE 802.5/802.2.
QUESTION 7
Which three statements accurately describe Layer 2 Ethernet switches? (Choose three.)
A. Spanning Tree Protocol allows switches to automatically share VLAN information.
B. Establishing VLANs increases the number of broadcast domains.
C. Switches that are configured with VLANs make forwarding decisions based on both Layer 2 and
Layer 3 address information.
D. Microsegmentation decreases the number of collisions on the network.
E. In a properly functioning network with redundant switched paths, each switched segment will contain
one root bridge with all its ports in the forwarding state. All other switches in that broadcast domain will
have only one root port.
F. If a switch receives a frame for an unknown destination, it uses ARP to resolve the address.
Answer: BDE
Explanation:
Microsegmentation is a network design (functionality) where each workstation or device on a network gets its own dedicated segment (collision domain) to the switch. Each network device gets the full bandwidth of the segment and does not have to share the segment with other devices. Microsegmentation reduces and can even eliminate collisions because each segment is its own collision domain -> .
Note: Microsegmentation decreases the number of collisions but it increases the number of collision domains.
QUESTION 8
Where does routing occur within the DoD TCP/IP reference model?
A. application
B. internet
C. network
D. transport
Answer: B
Explanation:
The picture below shows the comparison between TCP/IP model & OSI model. Notice that the Internet Layer of TCP/IP is equivalent to the Network Layer which is responsible for routing decision.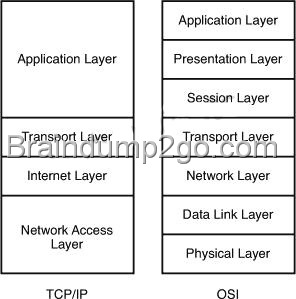 QUESTION 9
Refer to exhibit: Which destination addresses will be used by Host A to send data to Host C? (Choose two.)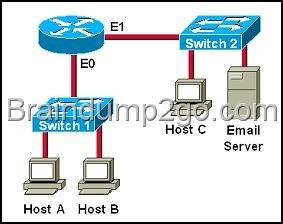 A. the IP address of Switch 1
B. the MAC address of Switch 1
C. the IP address of Host C
D. the MAC address of Host C
E. the IP address of the router's E0 interface
F. the MAC address of the router's E0 interface
Answer: CF
Explanation:
While transferring data through many different networks, the source and destination IP addresses are not changed. Only the source and destination MAC addresses are changed. So in this case Host A will use the IP address of Host C and the MAC address of E0 interface to send data. When the router receives this data, it replaces the source MAC address with it own E1 interface's MAC address and replaces the destination MAC address with Host C's MAC address before sending to Host C .
QUESTION 10
For what two purposes does the Ethernet protocol use physical addresses? (Choose two.)
A. to uniquely identify devices at Layer 2
B. to allow communication with devices on a different network
C. to differentiate a Layer 2 frame from a Layer 3 packet
D. to establish a priority system to determine which device gets to transmit first
E. to allow communication between different devices on the same network
F. to allow detection of a remote device when its physical address is unknown
Answer: AE
Explanation:
Physical addresses or MAC addresses are used to identify devices at layer 2.
MAC addresses are only used to communicate on the same network. To communicate on different network we have to use Layer 3 addresses (IP addresses) -> B is not correct.
Layer 2 frame and Layer 3 packet can be recognized via headers. Layer 3 packet also contains physical address ->
On Ethernet, each frame has the same priority to transmit by default -> All devices need a physical address to identify itself. If not, they can not communicate –>
If you want to pass the Cisco 200-120 Exam sucessfully, recommend to read latest Cisco 200-120 Dum full version.