QUESTION 141
Which command enables IPv6 forwarding on a Cisco router?
A. ipv6 local
B. ipv6 host
C. ipv6 unicast-routing
D. ipv6 neighbor
Answer: C
Explanation:
to enable IPv6 routing on the Cisco router use the following command:
ipv6 unicast-routing
If this command is not recognized, your version of IOS does not support IPv6.
QUESTION 142
Which command encrypts all plaintext passwords?
A. Router# service password-encryption
B. Router(config)# password-encryption
C. Router(config)# service password-encryption
D. Router# password-encryption
Answer: C
Explanation:
The "service password-encryption" command allows you to encrypt all passwords on your router so they can not be easily guessed from your running-config. This command uses a very weak
encryption because the router has to be very quickly decode the passwords for its operation.
It is meant to prevent someone from looking over your shoulder and seeing the password, that is all. This is configured in global configuration mode.
QUESTION 143
You have been asked to come up with a subnet mask that will allow all three web servers to be on the same network while providing the maximum number of subnets. Which network address and subnet mask meet this requirement?
A. 192.168.252.0 255.255.255.252
B. 192.168.252.8 255.255.255.248
C. 192.168.252.8 255.255.255.252
D. 192.168.252.16 255.255.255.240
E. 192.168.252.16 255.255.255.252
Answer: B
Explanation:
A subnet mask of 255.255.255.248 will allow for up to 6 hosts to reside in this network. A subnet mask of 255.255.255.252 will allow for only 2 usable IP addresses, since we can not use the network or broadcast address.
QUESTION 144
Given an IP address 172.16.28.252 with a subnet mask of 255.255.240.0, what is the correct network address?
A. 172.16.16.0
B. 172.16.0.0
C. 172.16.24.0
D. 172.16.28.0
Answer: A
Explanation:
For this example, the network range is 172.16.16.1 – 172.16.31.254, the network address is 172.16.16.0 and the broadcast IP address is 172.16.31.255.
QUESTION 145
Which IPv6 address is the equivalent of the IPv4 interface loopback address 127.0.0.1?
A. ::1
B. ::
C. 2000::/3
D. 0::/10
Answer: A
Explanation:
In IPv6 the loopback address is written as,
This is a 128bit number, with the first 127 bits being '0' and the 128th bit being '1'. It's just a single address, so could also be written as ::1/128.
QUESTION 146
You are working in a data center environment and are assigned the address range 10.188.31.0/23. You are asked to develop an IP addressing plan to allow the maximum number of subnets with as many as 30 hosts each. Which IP address range meets these requirements?
A. 10.188.31.0/26
B. 10.188.31.0/25
C. 10.188.31.0/28
D. 10.188.31.0/27
E. 10.188.31.0/29
Answer: D
Explanation:
Each subnet has 30 hosts < 32 = 25 so we need a subnet mask which has at least 5 bit 0s -> /27. Also the question requires the maximum number of subnets (which minimum the number of hosts- per-subnet) so /27 is the best choice -> .
QUESTION 147
Which parameter or parameters are used to calculate OSPF cost in Cisco routers?
A. Bandwidth
B. Bandwidth and Delay
C. Bandwidth, Delay, and MTU
D. Bandwidth, MTU, Reliability, Delay, and Load
Answer: A
Explanation:
The well-known formula to calculate OSPF cost is Cost = 108 / Bandwidth
QUESTION 148
Why do large OSPF networks use a hierarchical design? (Choose three.)
A. to decrease latency by increasing bandwidth
B. to reduce routing overhead
C. to speed up convergence
D. to confine network instability to single areas of the network
E. to reduce the complexity of router configuration
F. to lower costs by replacing routers with distribution layer switches
Answer: BCD
Explanation:
OSPF implements a two-tier hierarchical routing model that uses a core or backbone tier known as area zero (0). Attached to that backbone via area border routers (ABRs) are a number of secondary tier areas. The hierarchical approach is used to achieve the following:
Rapid convergence because of link and/or switch failures
Deterministic traffic recovery
Scalable and manageable routing hierarchy, reduced routing overhead.
QUESTION 149
Drag and Drop Question


Answer: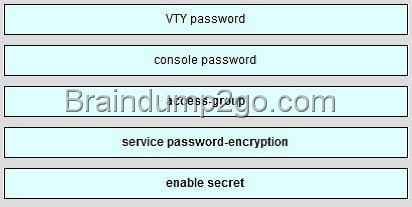 QUESTION 150
Drag and Drop Question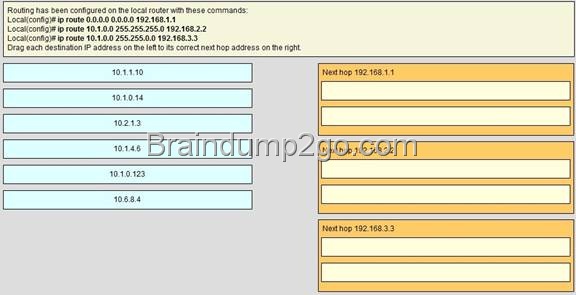 Answer: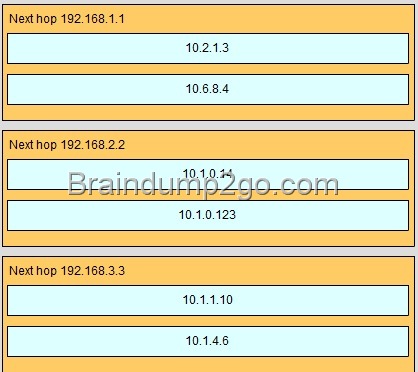 If you want to pass the Cisco 200-120 Exam sucessfully, recommend to read latestCisco 200-120 Dum full version.